Can BCA students take up part-time jobs during their course?
Yes, BCA (Bachelor of Computer Applications) students can take up part-time jobs during their course. Many BCA students choose to work part-time to gain practical experience, earn income, and develop their skills while studying. Here are some factors to consider when deciding whether to take up a part-time job during your BCA program:
Time Management
It's important for BCA students to manage their time effectively to balance their academic responsibilities and part-time work. They should ensure that their work commitments do not negatively impact their studies or result in excessive stress.
Work Opportunities
BCA students can explore various part-time job opportunities that align with their skills and interests. These may include internships, freelance projects, tutoring, technical support roles, or working in the IT departments of organizations.
Relevant Experience
Part-time jobs can provide valuable practical experience in the field of computer applications. Students can gain exposure to real-world scenarios, apply their knowledge, and develop relevant skills that complement their academic learning.
Networking and Professional Development
Part-time jobs allow BCA students to build professional networks and establish connections within the industry. This can be beneficial for future career opportunities, references, and mentorship.
Financial Support
Working part-time can help BCA students earn income to support their educational expenses, cover personal costs, or reduce the need for financial assistance.
Skill Development
Part-time jobs provide an opportunity to develop and enhance various skills such as communication, teamwork, problem-solving, time management, and technical proficiency.
Practical Application of Knowledge
Through part-time work, BCA students can apply theoretical concepts learned in their courses to real-world situations. This can deepen their understanding of the subject matter and reinforce their learning.
Flexibility
Part-time jobs often offer flexible work hours, which can be beneficial for BCA students who need to accommodate their class schedules and academic commitments.
Suggested Reading: A Guide to BCA Course: Eligibility, Admission, Fees, Scope, Career, Subjects & More!
Top Part-Time Jobs for BCA Students with Competitive Salaries
Here's a table providing examples of part-time job opportunities in India for BCA students, along with approximate salary ranges:
| Job Title | Description | Salary Range (Monthly) |
| --- | --- | --- |
| Web Developer | Building and maintaining websites | INR 10,000 – INR 30,000 |
| Software Tester | Testing software applications for bugs and errors | INR 8,000 – INR 25,000 |
| Data Entry Operator | Entering data into computer systems | INR 6,000 – INR 15,000 |
| Technical Support Agent | Assisting users with technical issues | INR 8,000 – INR 20,000 |
| Content Writer | Creating written content for websites or blogs | INR 5,000 – INR 20,000 |
| Mobile App Developer | Designing and developing mobile applications | INR 12,000 – INR 35,000 |
| IT Support Technician | Providing technical support for hardware/software | INR 8,000 – INR 20,000 |
| Social Media Coordinator | Managing social media accounts and content | INR 6,000 – INR 18,000 |
| Online Tutor | Providing online tutoring in various subjects | INR 5,000 – INR 20,000 |
| Graphic Designer | Creating visual designs for digital or print media | INR 8,000 – INR 25,000 |
In summary, BCA students can take up part-time jobs during their course, as long as they are able to balance their academic responsibilities with their work commitments. By considering factors such as time management, flexibility, workload, industry relevance, networking opportunities, financial benefits, and academic standing, students can make informed decisions about whether to take up a part-time job and choose one that is beneficial for their academic and career goals.
What to Do After BCA?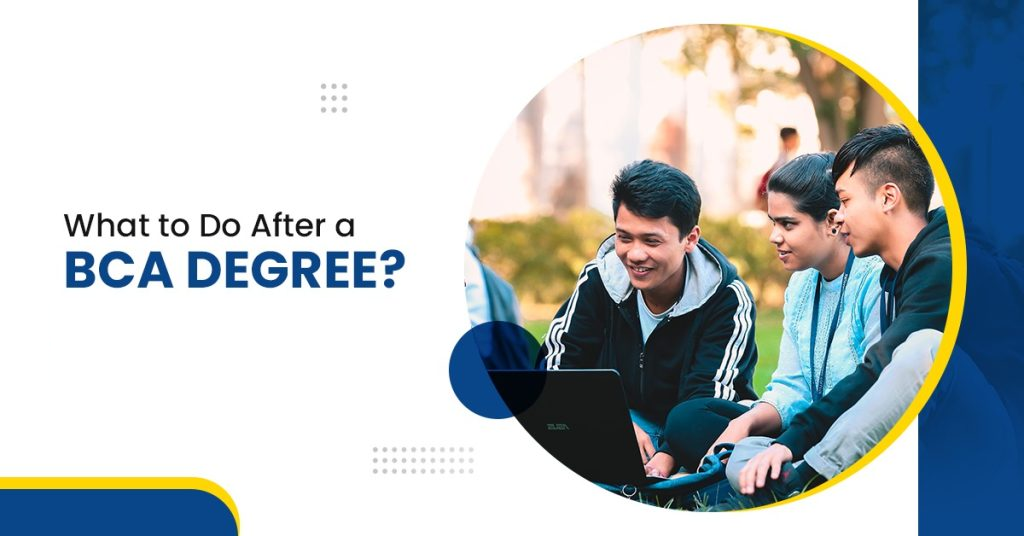 After completing a Bachelor of Computer Applications (BCA), you have several options for your career path. Here are some common paths that BCA graduates pursue:
MCA (Master of Computer Applications): One popular choice is to pursue a master's degree in computer applications. An MCA degree provides advanced knowledge and specialization in various aspects of computer science and prepares you for higher-level roles in the industry.
MSc in Computer Science: Another option is to pursue a master's degree in computer science, which offers a broader and more theoretical approach to the subject. This degree can open up opportunities for research, teaching, and specialized roles in academia or industry.
MBA (Master of Business Administration): If you're interested in combining your technical knowledge with business skills, pursuing an MBA can be a good choice. It equips you with management skills and can lead to roles in IT management, project management, or entrepreneurship.
Certification Programs: Consider enrolling in industry-specific certification programs to enhance your skills and improve your employability. There are numerous certifications available in areas such as programming languages, database management, cybersecurity, cloud computing, and more.
Job Opportunities: With a BCA degree, you can start your career directly in the industry. Some common job roles for BCA graduates include software developer, web developer, system analyst, database administrator, network administrator, and IT consultant. Gain practical experience through internships or entry-level positions to further strengthen your skill set.
Entrepreneurship: If you have an entrepreneurial mindset and an innovative idea, you can consider starting your own tech-based venture. Develop your business plan, seek mentorship, and explore funding options to turn your idea into a successful startup.